Stevenson Family
© Marty Grundy, 2002
The first highly likely member of our Stevenson line was Ambrose StevensonB of London, who was born in 1678. Ambrose was mentioned in his uncle Ambrose Stevenson's will of 1679, implying that he was the son of one of Ambrose's brothers: John, Edward, Thomas, or Richard. There were four generations of first-born sons named Ambrose Stevenson in Byerside, County Durham. The similarity of name with our London Ambrose may be more than coincidental, but has not yet been proved to my satisfaction.
"Our" Ambrose married 6 November 1707 Bridgett Parnell at St. Edmund the King and Martyr, Lombard Street, London. The family were artisans and members of St. Giles Cripplegate in London.
Bridgett had been born in 1691, the daughter of Thomas Parnell and his wife Bridgett (Sells) Penn, the widow of John. She had a brother, James Parnell, whose 1724 will named his sister Bridget Stevenson, [step-]brother John Penn, brother[-in-law] Ambrose Stevenson, and sister Mary Clancan. He bequeathed his brother[-in-law] Ambrose all his property in Fillingly, Warwickshire and the woods that had been bequeathed by the will of William Brierly to his sister Mary Clancan. Thank goodness for well-preserved and specific wills. They are one of our most valuable sources for this period.
Children of Ambrose and Bridgett (Parnell) Stevenson :
i. Mary StevensonA, chr. 16 Oct. 1709 at Christ Church Greyfriars, Newgate, London; presumably d.y.
ii. Ambrose Stevenson, chr. 16 Jan. 1711 at Christ Church Greyfriars; apprenticed 1731 to Thomas
Hayward, cooper.
iii. Parnell Stevenson, chr. 13 Feb. 1712 at Christ Church Greyfriars; presumably d.y.
iv. Mary Stevenson, chr. 25 July 1714 at Christ Church Greyfriars;
v. Parnel Stevenson, chr. 25 Nov. 1716 at Christ Church Greyfriars;
vi. James Parnell Stevenson, chr. 30 July 1725 at St. Giles Cripplegate, London; d. 1756. Apprenticed in
1741 to Thomas Ford, barber surgeon in London.
vii. Joanna Stevenson, chr. 28 July 1728 at St. Giles Cripplegate;
viii. John Allen Stevenson, chr. 18 Jan. 1729 at St. Giles Cripplegate;

James Parnell StevensonA, son of Ambrose, was born after 1718 in the parish of St. Giles Cripplegate, London, and was christened 30 July 1725. He was apprenticed to Thomas Ford, Citizen of London, in 1741, for £60 to learn the business of barber surgeon. When he married 23 December 1746 Margaret Smith, he was "of St. Luke's, Middlesex". Margaret was "of Crutched Fryers". They were married at Mayfair St. George's, a chapel notorious for a disreputable clergyman who performed runaway marriages. Since James was still bound as an apprentice, it was illegal for him to marry. It is possible that they were married a second time, legally. There is a record of a James Stephenson who married Margaret Stephenson on 29 December 1747 at Woodhorn, Northumberland. However, this may be two altogether different people. It is interesting, however, that their first child was not christened until 1751. If Margaret was pregnant when she married, there may have been a miscarriage. Or, the christening could have been postponed.
James was a Surgeon's Mate in the Royal (British) Navy and died "abroad" on 18 May 1756, leaving two young sons. Coincidently, there is a will of a James Stivenson, Corporal on board HMS ffogeux, who signed his will 17 June, proved 2 April 1756, giving everything to his friend James Caskie, since the testator was a bachelor. Clearly this was not our man.
Margaret then became the housekeeper for David Barclay of London. David Barclay was of the famous Quaker family, descended from Robert who wrote the Apology. David was said to be the richest man in London, as well as one of the kindest. He had an export-import business and was a partner in the family bank, Barclay's Bank of England. He was a friend of Benjamin Franklin and worked as an intermediary between Franklin and Lord North's ministry to negotiate a reconciliation between Great Britain and the American colonies in 1775-1776.
Margaret died 15 November 1760 in London. That year David Barclay was appointed the London agent for the government of the three lower counties on the Delaware: New Castle, Kent, and Sussex, that eventually became the state of Delaware. Barclay took an interest in the young orphans of his late housekeeper. James, aged 9, was sent to school in Yorkshire. It may be that Stevenson relatives from County Durham had moved to Yorkshire, and he was sent to be near them. On the other hand, it could be that Barclay chose a Quaker school there. Henry was sent to live with his great great aunt, Jane Long, gentlewoman of Hertfordshire.
James and Margaret (Smith) Stevenson had two children :
i. James Lewis Stevenson1, b. 15 Apr. 1751 in Chatham, England; d. 1 Feb. 1817 in Smyrna, Delaware. See
below.
ii. Henry Stevenson, b. 12 Nov. 1754, bapt. 4 Dec. 1754 at St. Giles Cripplegate, London; sent as an orphan
to his great great aunt, Jane Long, spinster and gentlewoman in Hertfordshire; served in British navy during
the American Revolution.

James Lewis Stevenson1, the eldest son of James Parnell Stevenson and his wife Margaret, was said to be born in Chatham, England on 15 April 1751. There was a Chatham in the Medway District, Lancashire, from 1837 to 1930, but whether or not this is the correct Chatham, I do not yet know. There is no Chatham in Lewis's 1842 Topographical Dictionary. Presumably the Chatham we are looking for was a naval base of some sort.
After the death of his father, James's mother took a job in London as housekeeper for David Barclay, as described above.
James's mother died when James was nine years old, and her former employer sent James to school in Yorkshire. When he was finished, James was sent to the Delaware Valley. He arrived in Duck Creek on 16 July 1768 at the age of 17. He was apprenticed to Fenwick Fisher, a prominent Quaker merchant and Justice of the Peace. James lived in the Fisher home on Commerce Street (now known as the Enoch Spruance house), and helped in Fisher's store. His apprenticeship lasted four years and seven months, ending in 1773. While he was living in Philadelphia James bought a notebook into which he copied letters and the titles of books he received from England. It has been passed down in the family and currently is in the possession of Lucy T. (Shoe) Meritt.
On 14 February 1775 James married Margaret Denny, daughter of John Denny, and granddaughter of Philip Denny. She was born 15 May 1753. The young couple lived in a log house on Ball Street (now Mt. Vernon Street) in Smyrna. The log house had two rooms in the front and two rooms in the back. It burned down in 1850. In 1992 the site was a vacant lot, between the Methodist Church and the Ebenezer Cloak house.
I do not know if James ever joined the Religious Society of Friends. But in Smyrna he and Margaret were among the early converts to Methodism, hosting Francis Asbury, who preached in their log house. The first Methodist services held in Smyrna were conducted in the Stevenson home. Family tradition recounted that James
was a member of the Episcopal church at Duck-creek, but was expelled because he allowed the new sect called Methodist to hold meetings in his house. Bishop Asbury preached there. Once while services were being held a mob collected and put a pry under one corner of the building to destroy it, but the congregation collected in that corner and prayed so fervently that the mob were dispersed.
John Wesley wrote in a tract that he hoped the colonies would not separate from Great Britain, and therefore during the Revolution Methodists were sometimes suspected of being Loyalists.

Descendant Lydia Stevenson McDowell in 1903 wrote of the family stories concerning her grandparents during the American Revolution. She wrote of James Stevenson:
He kept a store in New Castle and during the Rev. War the British soldiers looted the store of Blankets & Provisions, after which they demanded of my Grandmother to know where the money was. She refused to tell them but they held a pistol at her head threatening to blow her brains out, but she cooly said, "Blow away!" Finding her so heroic, they left her. Her husband was in hiding to keep from being forced into the British Army.
When war broke out, James served in the Delaware Line in 1777. The militia was alerted when a British raiding party was sighted at the Landing. During the ensuing skirmish, James was sure he saw his brother, Henry, among the British, and refused to fire. As a result he lost his Sergeant's stripes and was under sentence of death. James "Stephenson" is entered in Delaware military records through March 1780, when he was "put on board a Continental galley". But there is no record of a court martial. Instead he was assigned to Quartermaster and served honorably until the end of the War. Lydia McDowell's family story recounts that on "finding his brother in their [British] ranks, refused to remain in the company and had to give a large sum of money for his release, so, of course, was branded as a Tory."

A James Stevenson appeared in the 1782 Delaware Assessment and Tax list in Duck Creek Hundred. His household consisted of one man over eighteen and another under eighteen years, and two woman over 18. Another listing of the same data credits James's household with four individuals distributed as two men over 18, one under 18, and one woman under 18. Neither of these compute with our ancestor's family. On a separate plot a James Stevenson was assessed on its value of £4.

The family of James and Margaret continued to grow, and eventually they had eleven children. James built a larger frame house (on the site of the present Methodist church).

James was a shopkeeper. During the early years of the Revolution, and again from 1794 to 1797 his store was in a brick building owned by Col. Charles Pope. It was located on the site of the present (as of 1992) Tilghman building on the north side of Commerce Street, just east of Main Street. There is an alley between this building and the corner building on Main Street, that used to be known as the King's Highway. A dispute over the ownership of the alley worked its way up to the Delaware Supreme Court. James made a deposition proving that the alley had always been an alley and was not the King's Highway. James also bought a two-story brick house on the Landing Road which may at one time have been his store.

In 1808 James went bankrupt. His three properties were seized and sold at auction. The highest bidder was his brother Henry, who was termed "gentleman" in the deed. The immediate cause of bankruptcy was a large bill due to the Fisher brothers in Philadelphia. But as James was a careful businessman, the underlying cause may have been some disaster such as a sunken ship, or a fire.

The bankruptcy did not remain a blot on his reputation, however. In 1812 two of the richest men in Smyrna, John Cummins and Ebenezer Blackiston, chose James to be an officer of the Commercial Bank of Delaware, the first bank in Smyrna. Lydia McDowell's family story holds that James "was the cashier of Smyrna Bank at the time the British were reported to be at Core's Landing [during the War of 1812]. Fearing the soldiers might rob the Bank the money was put in a strong chest and Grandfather was dispatched with it to Jimtown to put it in hiding. Finding the report untrue he returned with it to the Bank."

On 29 March 1813 the Governor of Delaware commissioned James a Notary and Tabelion Public for Kent County. Scharf's History of Delaware lists the date as 7 Apr. 1813.

James Stevenson can be tracked in the US census for Delaware. The snapshot of his household every ten years gives some sense of the life stages he was passing through. In 1800, as a man of 49, his household also included one male and one female between the age of 10 and 16 and another pair between the ages of 16 and 26. There was one other free person, perhaps an African-American who lived with the family?

The Stevensons remained staunch supporters of the Methodist Church. In 1786 a frame building was erected for the congregation. At a meeting on 4 march 1799 seven trustees were elected, including James McDowell and James Stevenson, who was elected secretary.

Margaret died 6 November 1816. James died in Smyrna, Delaware on 1 February 1817, aged 66. They were both buried in the Asbury Methodist Cemetery, along with their sons Henry, Philip, and Denny. James signed his will 4 January 1817. It was proved 1 March. Sons Thomas and Philip were named executors. He bequeathed his watch, bed, $100 and the family Bible to son Charles. Sons Denny and Philip received personalty. His tombstone reads, "A patient man he is at rest."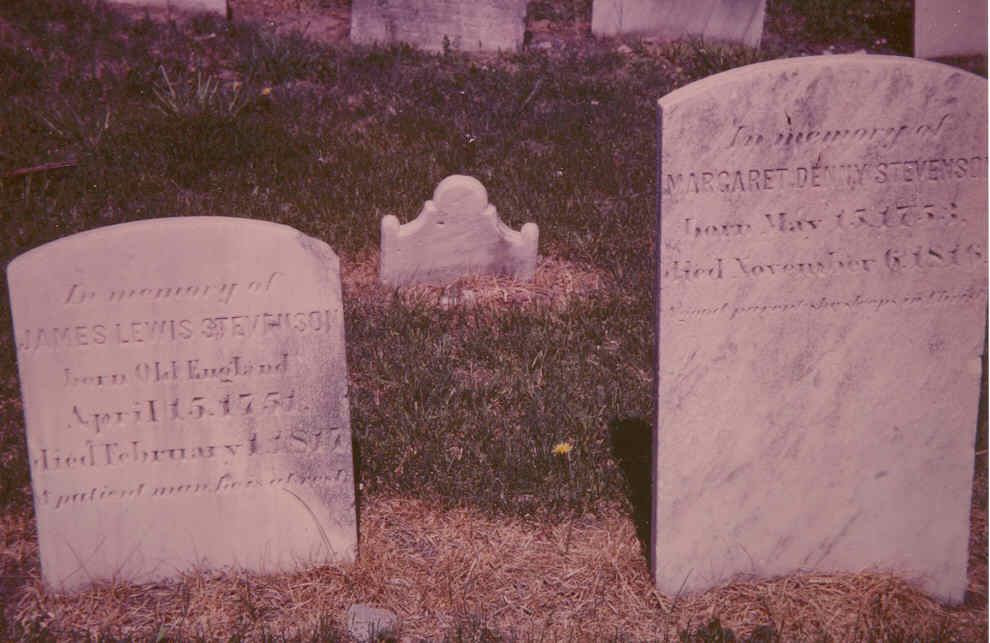 Children of James and Margaret (Denny) Stevenson:
i. John Stevenson2, b. 5 or 6 May 1776 at Duck Creek Cross Roads; d. 31 July 1780.
ii. James Stevenson, Jr., b. Saturday, 27 June 1778 or 1779 on the John Denny place; d. Sunday 17 Mar.
1811 at 7:30 a.m.; m. 1801 Sallie McKim. Either he or his father, on 6 June 1810 was commissioned
Captain of the Light Infantry, 1st Battalion, 4th Regiment.
iii. Henry Stevenson, b. Wed., 9 or 30 Aug. 1780; d. 10 or 11 Dec. 1827; m. 1800 Phebe Snow; 2 children:
David Stevenson and Phebe Ann Stevenson who m. Joseph Disch and had three children (including
Rebecca Disch).
iv. David Stevenson, b. Friday, 7 or 13 Dec. 1782 at Duck Creek Cross Roads (later called Smyrna); d.
Tues., 1 Sept. 1807 at 4:10 a.m.; m. Ann Knock or Neck ; 1 daughter: Mary Stevenson, b. 1804.
Commissioned 17 May 1828 Lieutenant, 5th Co., 5th Regiment [Delaware militia].
v. Mary Stevenson, b. Tues., 4 Jan. 1785 at Duck Creek Cross Roads; d. 19 Dec. 1829; m. 1802 Daniel
Smith.
vi. Thomas Stevenson, b. Sunday, 25 Feb. 1787 at Duck Creek Cross Roads; d. 10 Nov. 1865; m. twice; 9
children. See below.
vii. Margaret Stevenson, b. Tues., 21 Apr. 1789 at Duck Creek Cross Roads; d. 17 Aug. 1826; m. George
Mann.
viii. Philip Stevenson, b. Sat. 19 Nov. 1791 or 1793 at Duck Creek Cross Roads; d. 24 Dec. 1823; m.
1816 Eliza Mull.
ix. Denny Stevenson, b. Wed., 9 Apr. 1794 at Duck Creek Cross Roads; d. 19 May 1866; m. 1817 Sarah
Leatherbury; 8 children: William, Asbury, Anne, Elizabeth, Lydia (m. __ McDowell), Sara Jane, Martha,
William Denny. Anne is the great great grand mother of Darrell Sparks.
x. Susannah Stevenson, b. Tues., 14 Mar. 1797 at Duck Creek Cross Roads; d. Fri., 21 Sept. 1818 at
10:30 p.m.
xi. Charles Lewis Stevenson, b. Fri., 27 June 1800 at Duck Creek Cross Roads; d. 13 Mar. 1876; m. 1821
Ann Severson (she d. 13 Mar. 1870 and was buried in the old ME Cemetery in Dover); 1 son: Daniel G.
Stevenson (1827-1896).
| | |
| --- | --- |
| Thomas Stevenson2, the son of James and Margaret (Denny) Stevenson, was a cabinetmaker in Dover, who married Sarah Quinnally. Thomas was born February 25, 1787 in Smyrna (then called Duck Creek Crossroads), Delaware, and died in 1865. A bureau he built was exhibited at Wilmington Society of Fine Arts in 1950 (see Antiques magazine, Aug. 1950, p. 207). The oldest picture I have for this branch of the family is the following picture of Thomas. If anyone has a likeness of Sarah (Quinally) Stevenson, I would very much like to add it to this page. | |
Two children of Thomas and Sarah (Quinnally) were John A. Stevenson and Margaret Ann Stevenson. If anyone has pictures of any of their other children, I would be delighted to post them here.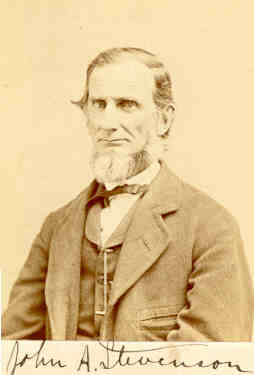 John A. Stevenson, a son of Thomas and Sarah
Margaret Ann Stevenson, 2nd wife of James A. Dunning.
James Anderson Dunning, in 1847
He was born August 28, 1811 in Maryland, and died Feb. 6, 1865 in Dover, Delaware.
Margaret Ann Stevenson Dunning, in 1847
She was born Oct. 26, 1818 in Dover, and died. June 26, 1904 in Philadelphia.
For Margaret Ann's family and children, go to the Dunning page.