Paxson Cousins
The following people are the nieces, nephews, and children of Tom and Anne Paxson. They are first cousins, grandchildren of Charles S. and Martha K. Dunning Paxson.
The purpose of this page is to post photographs and limited news for family and close friends.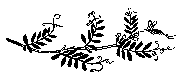 "Common Vetch", block print by Anne E. G. Nydam
---
Herr Family Photographs
Helen and Marty

Seated beneath the portraits of Martha Ann Griffith and her husband Samuel Fothergill Balderston, our great great grandparents. 5/9/2000. For more pictures of ancestors, click on past generations
.
---

"Poppy", block print by Anne E. G. Nydam
To visit another page of family pictures click on one of the following (some pages have not yet been constructed):